Uh oh. Tummy rumbling. And you're just about to head out.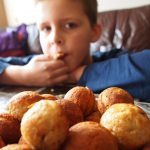 You hesitate. Should I eat? What should I eat? I don't want that brick-in-the-gut feeling. Or a stitch. Or have to pull into the woods for an emergency landing. The question…the question…what to eat before a run?
I once had an accounting professor who was also a runner. Energetic, demanding, sharp as a tack and exceedingly well loved, he quipped once to me that the only reason he ran was so that he could eat whatever the hell he wanted.
Although I admired his discernment in class, his advice definitely doesn't apply before a run.
Go Small
The consensus is – eat as little as possible, given the workout you've got in mind. Generally the less chow in there the better.
If you're going to be out less than a half hour, don't worry about eating. You won't be able to metabolize what you eat anyway and it won't give you much of a kick. Put up with the rumblings until you get back and you'll be thankful you did.
If you've got a longer run planned, a smart food choice might just make the difference between smooth sailing and, say, run interrupted.
Got to Eat (or You'll Die)?
If you gotta eat, you gotta eat.
It takes from 4 to 5 hours, depending on what you eat, for food to leave your stomach. So it makes a lot of sense that most experts say to eat, if you can, about 3.5 to 4 hours before you head out.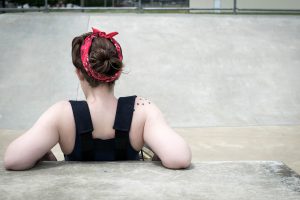 So if you have to eat, but you're not squeezed to fit in your long run right away, chow down and then chill for a few hours.
What Not to Do
But if you need to fit your run in there are some good choices and some not-so-good ones before you hit the road.
I've had my fair share of gastric misadventures on the run, including one wretchedly timed long run (that turned into a short one) immediately after Thanksgiving dinner. I know the initial good intentions of running on, say, a full tank.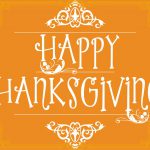 But there's no need for you to suffer the same deflation. Particularly if there's no place on your route to duck into the bushes, so to speak.
Fortunately, science and experience can give us some guidance.
The Good Stuff
What you need is reasonably healthy food with, for the most part, simple carbohydrates that your body can convert to something usable (primarily glucose), in a reasonable amount of time.
Here's the short list of the runner's friends that should do the trick.
Bananas.
They're easy to digest and a good source of potassium, which is lost in sweat, critical for the functioning of the heart and the firing of muscles. Bananas have a high but not super-high glycemic index (a measure of how a food's contents can be converted to glucose by the body) which translates into a nice even energy supply. A terrific energy boost, individually packaged in yellow wrappers in convenient snack sizes. Perfect.
Yogurt.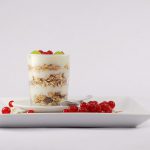 This is another great choice – and it's got protein, which digests more slowly, providing you energy later in the run.
White bread, bagels, white rice.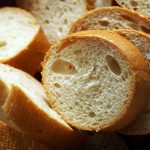 Lots of glucose in the form of starch, these digest easily and, if you don't overdo it will get you through the run until a meal proper.
Oatmeal.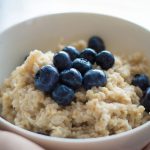 Also good. Also good with yogurt.
Grapes, watermelons, and peaches.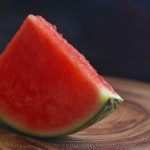 These fruits also have reasonably high glycemic indices, particularly grapes.
The Stuff You Want to Stay Away From
Chips, pop, junk food. I would say try it once and see how it works out for you. Or not.
Meat.
Of any kind. Takes forever to digest and who wants to lug that around.
Raw vegetables. So healthy. But they take a while to digest and just aren't that great to deal with ahead of a run. Cooked vegetables are better, but that takes some of the immediacy out of the need for feed.
And interestingly you might want to avoid apples, grapefruit, pears and prunes. They're all slow-release carbs which aren't quite as good when you're looking for a quick energy boost.
Power drinks, gels (or even orange juice).
With these, you're really talking about introducing glucose quickly into the body. While these are useful for marathoners whose muscles are sucking down body glucose at a great rate and potentially depriving their brain of it, you shouldn't need them. Dumping all that glucose into your body at once for a training run is just going to make your body work harder to deal with it.
Meal Time
If you've got time, get something small into your body that it can deal with easily and metabolize reasonably slowly.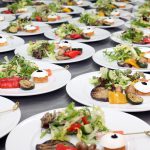 Ultimately, all you want to do is give yourself enough energy to both enjoy the run and to eventually reach a meal proper.
And then eat whatever the hell you want. (Just kidding!)
See you out there.
Save
Save
Save
Save