Product: Vitalsox VT1211 Graduated Compression Socks
Price: $19.95 to $35 (retail)
Cheapest Place to Buy: Amazon.com
Sizes: W (four sizes, 3 through 11.5+), M (four sizes, 5 through 16)
Colors: Black, Black-Neon, Fuschia, Lime, Marine-Orange, Orange, Royal-Lime, Lime-Yellow, White
They Know What They're Doing
If you're a runner – even if you're not – and you've been thinking about trying a compression sock, the Vitalsox VT1211 would be a great choice.
Well engineered and providing a moderate degree of compression in all the right places, it does what it's designed to do.
Arcos Spa, the makers of the VT1211 have been doing this for a long time. In business for 30 years, they've been producing compression socks in their factory near Brescia, Italy since 1998 and have built a reputation for high quality compression socks at good prices. The VT1211 builds on that reputation.
Top Notch Design

Like other compression socks, the Vitalsox VT1211 is intended to provide a boost to the heart-bound blood returning from your legs.
The difference with the Vitalsox, though, is in the design.
It provides between 12 and 20 mm Hg of additional graduated pressure – more at the bottom of your leg, where it's needed, and less at the top, where it's not.
Originally developed and patented for therapeutic use, these socks are not only designed to help push blood around but to keep you in some measure of comfort in the doing.
Each sock consists of four compression zones. Each zone is specifically engineered with a particular weave and material mix, and is integrated with the next zone to provide graduated compression through the mid-foot, ankle and calf.
What this translates to is maximum effect – increased blood flow – with minimal discomfort.
What's Great
The VT1211 is popular well beyond the running crowd.
Originally intended to help prevent deep leg thrombosis and to aid recovery from leg ulcers, the sock has gone mainstream. Nurses, teachers, doctors, pilots – anyone, it seems who is either on their feet or sitting for long stretches – swear by them.
And for good reason.
They're built for comfort.
The Silver Drystat fiber – patented by Arco S.P.A. – wicks moisture away. And the company claims that the silver ions incorporated into the fiber inhibit the growth of bacteria. For both of these reasons, they should at least smell better, longer.
For runners, the VT1211 appears well thought out. It has a padded footbed for softer landings. And it has a thin mesh strip that runs from the top of the foot to the cuff (and back) to provide an exit for moisture as well as some ventilation.
The sock also provides arch and plantar support, and because compression starts substantially at the mid-foot there is ample toe room. Roughly the same thickness as a typical department-store sock, the VT1211 is thin enough to wear with your normal running shoes or street shoes for that matter.
What's Not-So-Great

They take some time, as do all compression socks, to get on and off. For the otherwise faint-of-heart, here is a short video on what's involved:
A few runners have reported that they tend to wear out quickly. Arco S.P.A., for their part, counter that because the compression socks fit snugly, they will prevent the chafing and discomfort of blisters. Some users have also reported the socks not fitting well over large calves.
The Details
Material: 70% Silver Drystat, 10% Spandex, 10% Lycra, 10% Nylon
Compression: Graduated, 12-20 mmHg
Construction: 4 compression sections providing graduated compression throughout the sock, AB-X soft padded footbed, mesh strip
Sizes: Men's: S 5-7 (37.5-40), M 7.5-10 (40.5-44), L 10.5-13 (43.5-46), XL 13.5-16 (46.5-49) Women's: XS 3-5 (34-35.5), S 5.5-8 (36-38.5), M 8.5-11(39-41.5), L 11+ (41.5 +)
Care: Turn inside out, machine wash warm, tumble dry cool, do not bleach, iron or dry clean.
Rating
Fit (5 / 5)

From all reviews, fit is much better than competitors' compression socks.
Price

(4 / 5)
$19.95 per pair (best deal on Amazon)
Durability

(4 / 5)
My Rating (4.5 / 5)

Conclusion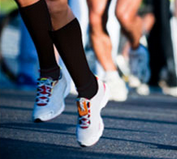 The Vitalsox VT1211 is more than a running sock that can help you recover from a workout.
These socks are fatigue-busting support-wear. And they are being gainfully employed to ease the stress of extended sessions of standing (conferences, teaching) and sitting (long plane trips and sitting at a desk all day) over and above their therapeutic uses.
They may not be everything the doctor ordered, but they may well earn their way into service well beyond your daily run.
I hope you enjoyed this review. If you have any questions or you are able to share your experience with the Vitalsox VT1211, I'd love to hear from you in the Comments area below.
Save
Save
Save