How Do You Start to Run?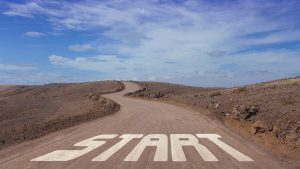 The idea of running appeals to you. It seems like a terrific idea. People do it and they appear to be having fun.
But to actually start running – from sitting in front of this screen to actually being out there running – how do you do that?
It doesn't matter whether you've never laced on a pair of running shoes or you've been doing this for 35 years and you're coming back from injury, it's all the same if you're starting at zero.
How do you start to run – how do you actually make it happen – so that you get going and stay going?
The two big keys to starting to run and to staying with it are the physical (the running) and the mental (the thinking about it).
Let's start with the physical.
Because it's easy.
Easy?
Easy. Just Stick with the Fundamentals…
Start slowly.
Don't do too much too fast.
Once again, the fundamentals:
Start slowly.
Don't do too much too fast.
Start Slowly – On Your Own…
The best way to start slowly is to walk.
I'm all for economy, so take your favorite comfortable running shoes for a walk. That's it.
Do that three or four days a week for a couple of weeks.
Then gradually increase your mileage while adding in a little bit of running.
The general rule is to never increase your total weekly distance by more than 10% per week. If you feel any discomfort, back off the mileage to something more comfortable and stay there until your body tells you it's okay to move on.
And your running career has officially (re)started.
…Or Get With a Program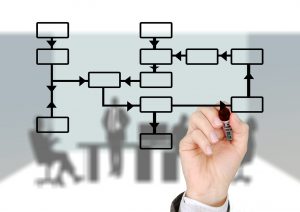 I'm not much for canned programs.
But having been injured one time too many by not being psychologically smart enough to follow the "don't do too much too fast rule", I'm a convert.
After your first couple of weeks, depending on how you feel, you're probably at the point where you're ready to step into the preamble to a half-marathon or marathon program.
I can sense the resistance. "Oh no…I'm not a marathoner. I couldn't do that. I just want to, you know, get in shape."
And that's fine. Own it. Take a deep breath.
Because I'm not talking about the marathon programs themselves. Yet.
I'm talking about a conditioning program for those programs. Like a prerequisite for a course.
An appetizer before the main.
The warm-up act.
The Program
In my estimation, there are few better programs available than Jeff Galloway's eight-week conditioning program.
Jeff Galloway has been doing this for years. I have one of his original running books (from his long-hair and bushy beard days) and I followed his advice successfully, again, for years.
It was when I went off-book, started freestyling, that I ran into troubles.
At that time he hadn't yet developed this low-stress, running and walking system for people starting out, or recovering from injury, or wanting to set a personal best.
Which makes this conditioning program noteworthy.
I've included it here in its entirety because it's easy, it doesn't take an enormous amount of time, it will keep you injury free, it's for runners and walkers, and it builds a little bit of a habit to help you keep on keeping on.
So Many Good Reasons (to do this)
Reason #1 – You don't have to make up what you're going to do every day (i.e., you don't have to freestyle).
Reason #2 – It's crafty. It doesn't get you doing too much too fast, but because you're doing a lot of (lower-stress) walking, you're building a good base for bigger mileage to come. It gets you going farther than you might otherwise be able to do safely. Crafty.
Reason #3 – You get every Friday (and Sunday if you like) off.
Reason #4 – At Week-8 levels of fitness (it might take you longer than 8 weeks to get there comfortably, but that's fine) you're never out walking or run/walking for much more than a half an hour a day. Not a bad investment to be, at the end of it, ready for a marathon or half marathon training program.
Reason #5 – It introduces you to run/walking, which will be the smartest investment – in terms of injury free running – you'll make in your running career.
Listen to Your Body
If you get hurt, stop.
If you feel any discomfort, back off the mileage and spend a little time at a comfortable run/walk ratio level. Jeff notes that if you need several weeks at each run/walk ratio level, take it. He says that this pre-conditioning training should not be stressful or painful. So when in doubt, ease off.
Contrary to urban myth, there's no need for pain in order to have gain.
For the Impatient…
If you're worried it might take 8 or more weeks to get marathon- or half-marathon-training-ready, consider this. A rational training program to build to a half or marathon typically takes 30 – 32 weeks from a running start. Taking 8 weeks – two months – to get you safely to that running start isn't that much of a give in the grand scheme.
The quickest way to injury is to ask your body to do something it isn't ready for.
So, the idea is, as you know:
Start slowly, and
Don't do too much too fast.
You're Closer than You Think
Eight to ten weeks (give or take).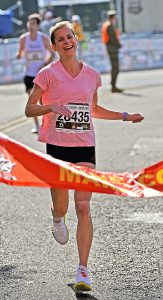 How does that appeal to you?
If you have some experience getting started, or other ideas you want to share, please let me know in the comments section below.
Love to hear from you.