If you haven't yet experienced the joy of running in the rain because you're worried about getting wet, I'm here to put your mind at ease.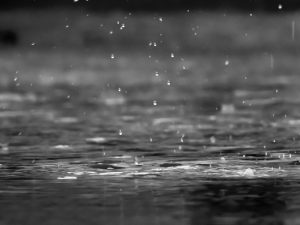 You're right. You're going to get wet.
But I guarantee, based on a lifetime (minus 8 years) of experience, you're not going to melt.
Once you've crossed that mental bridge, it's all good. And with a few tips, running in the rain can be memorable and fun, and it might just get a little of your inner child going too.
The Lid
Once you've decided you're okay with charging out in a downpour, there's only one indispensable piece of gear you need to have.
A ball cap. With a good long brim.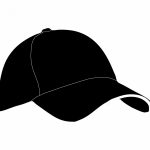 It'll keep the water out of your eyes and off your face, the only places where unwanted water can make things a touch miserable.
You probably already have a ball cap around the house. Just dig it out of the drawer and you're good to go.
Everything else is just nice-to-have.
Staying Dry(er) on Top
First among the nice-to-haves though, is a decent running jacket. One of the only other things that can douse a rainy day run is lugging a ton of water around out there with you.
A good running jacket will minimize that. What you want is a jacket that will keep rain from coming in but also let perspiration out. Jackets made of materials like Gore-Tex, HyVent, and H2No do exactly that.
It should also have vents to let the heat out, as well as some form of liner to keep you from rubbing directly against the jacket wall which might get you wet(ter).
Many rain jackets come with a hood. I find it difficult to hear properly with them on, making them, in my mind, less than safe. And they're hot.
Go with the ball cap. Hoods? Don't need 'em.
How About Rain Pants?
Years ago I had a pair of grey Gore-Tex rain pants I used as wind breakers during cold snaps in winter. They worked tremendously for that. But the two to three times a year I pressed them into service as rain pants, they tanked. After about three blocks of a steady downpour, the pants were soaked through and about as comfortable as wet jeans. Designs have improved, but I'd say, for simplicity…
Try tights. They don't shed water, but they also don't take on water (and weight) the longer you're out there.
Shoes
This will be where you notice the water first. You're feet will be surprisingly toasty warm and dry until that first big puddle jumps in the way. Then it's pretty much slosh-ville.
You kind of have two choices at this point.
You can wish you'd bought some shoes with GoreTex uppers, built to shed water and keep the tootsies warm and dry. They'll work – to a point. Depending on how deep puddle #1 was.
Or…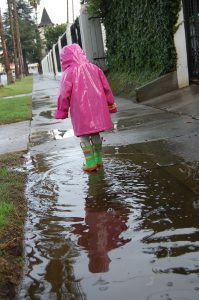 You can charge into puddle #2.
This takes some discernment – i.e., make sure it's not in fact a car-swallowing hole – but there's nothing like charging with reckless abandon into a body of water.
Quick question. When you were a kid, and you had your rain boots on, how many big puddles did you miss?
Exactly.
Undergear
Wear as tight-fitting clothes as possible underneath your jacket. A tee-shirt or long-sleeved tee is terrific, and the tighter the better.
Two reasons you want them tight.
First, you want some space between the running jacket and your body. No matter how breathable the material of your jacket, if you're out there long enough, you're going to have sweat and condensation forming on the inner wall of your running jacket. Which will make your clothes wet in no time.
The second reason is that if things are wet inside, and loose, they'll start to rub in all the wrong places. The only good rubbing is, ultimately, no rubbing.
Wear snug clothes.
Special Gear – Glasses
If you wear glasses, running in the rain can be a pain.
I don't quite yet need my glasses running, but the consensus among spectacle wearers is to use contacts. They argue that contacts are much easier to put on and are now just plain better than they ever used to be.
Some people have had success with Rain-X (Plastic) on glasses as well as other, more tailor-made, products such as Raincoat from MotoSolutions.
For starters, though, I would try out the low-tech solution of the day. A ball cap. It's apparently excellent at keeping the rain off your glasses.
So many uses, so little money.
Be Seen
Treat a rainy day like you would night time.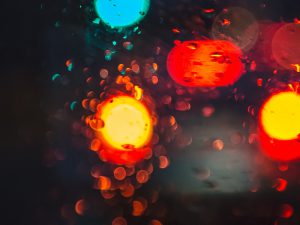 If you wear lights for night runs, put them on. A head-light and a tail light (one that you can attach to your jacket), are great. A reflective vest and reflective piping and patches on your tights and shoes – also great. The more that improves your odds of being seen out there, the better.
And the less you expect that they can see you, regardless of how you're lit up, the safer you'll be.
No matter how much you enjoy running, and it's good in the rain I can assure you, the main objective is to arrive alive.
So, be seen.
Ultimately
The summer I was 8, my dad and I were out in the woods fishing off a favourite beaver dam. We'd been there for a few hours without a nibble when it started to rain. The light was getting low so I reeled in and began to find my way off the dam.
"Where are you going?" my Dad said.
"Dad, we're going to get wet." I replied.
He grinned and threw his line back in. "Watch" he said, "Now they'll start to bite."
His line almost immediately twitched with some nibbles from below.
"See!" he whispered. "Don't worry. We're not made of sugar. We're not going to melt."
If you get a chance, get out there in the rain.
And get the kid going in you again.
You're not going to melt.
If you have an interesting experience running in the rain or just want to share, I'd love to hear your comments below.
See you out there!
Save
Save