Do you ever feel just a little self conscious when you're out running in tights?
I often wonder why otherwise sane, fitness-oriented people regularly subject themselves to open public scrutiny this way. Myself included.
Other than the fact that they feel good, how did this happen?
When I started running many, many years ago now, I'd throw on a pair of sweat pants and a hooded sweat shirt and away I'd go. I felt virtually invisible. Certainly not worthy of, or worried about, attention.
But now, and when I say now I mean in the last 20 years, tights have gotten to be the norm. For both men and women.
The other day, I came across an article on Sergeants-at-Arms. These are the men responsible for security in the British House of Parliament. And they dress, well, funny. One particular paragraph stood out for me. It concluded that the whole lot of them were just middle-aged men in tights.
I'm not a Sergeant-at-Arms.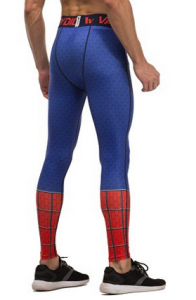 But am I that ridiculous middle-aged man in tights?
Appears so.
Which leads me to wonder if it's fair to everybody (and I mean every body) that tights are part of the modern running tool kit? And to wonder what happened over the last 20 years?
Show-offs
With a little digging, I found out that people, especially men, have been showing off their legs this way for quite some time.
From at least the Renaissance period, starting in the 14th century, to at least the 18th century leggings appear to have been very much in vogue among affluent men. Leggings were made to fit as closely as possible for comfort and utility when riding horseback.
And it was also fashionable then for men to display a "well-turned" leg. So much so that evidently King Henry VIII padded his calves under his leggings to make them appear more, say, ample. https://en.wikipedia.org/wiki/Tights
Leggings are not new.
Not even for men.
Not by any stretch.
The Benefits
So what is it about tights that makes them irresistible, despite the social consequences, when the weather gets cool.
#1 Warmth.
Yes, they're thin, but even the most basic running tights, if they fit properly (tight to the skin) provide a layer of still air next to the skin that acts as insulation. For colder weather, winter tights are designed to provide you with an extra layer of insulation, while still maintaining the other benefits, such as…
#2 Comfort.
Because they fit tight, or they should, they won't rub against your skin. Sweat pants not only trap moisture, but they may chafe. Tights have only minimal seams and elastic waist bands – fewer sites for potential chafing. And, for an article of clothing formally classified as hosiery, tights actually, uh, feel good.
#3 Weight.
They're light. Typical exercise leggings are 90% nylon and 10% lycra, and most have wicking material that draws moisture away from your skin. And they don't become soaked, and stay soaked, with sweat or rain the way that, for example, sweat pants do.
#3 1/2 Stability.
Compression tights aside (that's another discussion), standard running tights may marginally help the stability of your leg muscles – or at least improve how stable you think your leg muscles are. There's little evidence for any actual stability increase – but hey, I'm for psychological benefits too.
Choices

It's pretty hard to find anything other than tights and shorts in the pant section of your running store. There's just not a lot of choice in leg wear at the moment.
You can move up to basic jogger fleece pants (and sweat).
Or you could slide into running trousers (like Nike Dri-Fit).
But for the most part, tights are today's go-to garment to cover-up in cool weather.
So How to Deal With It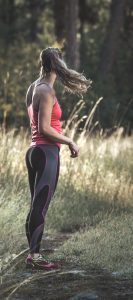 Some people should wear tights…as a public service. These people feel comfortable in tights. They look good in tights. And they know they look good in tights. Perfect.
Then there's the rest of us. Where the whole idea of tights – whether it's our body shape, or our age or our old-school modesty – is just flat out an issue.
Well, I'm here to tell you that you can still get the benefits of wearing tights while maintaining some semblance of decorum – however you define it.
A Slightly Longer Jacket
I invested in a more generously-shaped jacket – one that conceals the gluteus maximus to, I think, an appropriate degree. It gives me the kind of psychological comfort I need to not think about what's being seen or not seen.
Wear Shorts
Another alternative is to wear shorts over top of your tights. Preferably running shorts. You may give up some of the comfort factor, but there'll be no second guessing. Or double takes.
Don't Care
The third and probably healthiest option is to just not care.
The tights fit.
They feel terrific.
It's somebody else's problem.
Not being in the last category, every fall I pull out the tights again and feel that twinge of "Do I really have to wear these?" and "Am I really a ridiculous middle-aged man in tights?"
But then I just put them on.
And I put my jacket on.
And, you know what?
They feel so good, I actually don't care.
I'd love to know what your experiences with tights have been. So leave me a comment below and let's compare notes.
See you out there.
Save
Save
Save