The Vibram Spyridon MR
Product: Vibram FiveFingers Spyridon MR

Price: $120 (retail)
Cheapest Place to Buy: Amazon.com
Sizes: (W) 36-42, (M) 40-46
Colors: Men – Grey/Orange, Black/Grey, Purple/Black
Women – Grey/Black, Purple/Black
About Time?

Vibram is all about the sole. Always has been about the sole.
Since Vitaly Bramani started making rubber soles for climbing boots in the 30's, Vibram has made the best rubber lug soles, if not boots, in the world. With the Spyridon MR they've combined the utility of the lug-sole boots so well loved by generations of mountaineers and hikers, with their distinctive FiveFinger design that helped popularize minimalist running.

As an avid trail runner and sometime FiveFinger user, my question would be, what took them so long?
Get a Grip
They've taken the same compound, XS Trek, used on their hiking and trekking boots, added some cool, sensible multi-directional lugs, and fused the result to the bottom of the Spyridon MR. Resulting in a soft, sticky grip that's going to make a huge difference in the wet going on rocks and trails.
My sense is that the lugs aren't going to last under extensive road work. But my experience with the same sole material on hiking boots is that the sole stays grippy even as the lugs are worn down.
So I'd expect the Spyridon MR to provide you excellent traction even with the lugs worn to nubs.
Comfort
When I'm running minimalist, I'll wear a pair of FiveFingers until the soles are worn right through. So when I find a pair I like I generally buy two.
I would buy two pairs of these.
It's a light shoe. It's in the mid-range of the Vibram line in terms of weight and it has a similar flexion – stiffness in torsion or strength – and weight to the Bikila. It's also got the terrific speed lacing system that's been a feature on FiveFingers for some time. Not only does the system help you cinch the shoes faster, it allows the laces to give slightly, which helps keep things comfortable.
And I like the stretchy uppers on the Spyridon.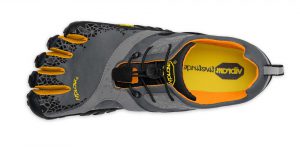 They'll give you some breathing room over the forefoot, particularly if you've got high arches. I also like the suede support band that runs from the big toe across the upper to the ankle, perhaps providing a little lateral support for the foot, in addition to looking good.
Ride
Eventually a trail run in a pair of FiveFingers will yield the, say, displeasure of landing on rocks or roots squarely on your instep.
Vibram has applied some grey matter to this matter and has come up with a mesh midsole – their 3D Cocoon – to spread the shock of direct hits more widely through the shoe. It's like a safety sole for minimalists.
But at only 4 mm thick (about in the middle of the pack for FiveFingers sole thickness), you're still going get, say, a good feel for the terrain.
If you're looking for stability or a cushioned ride, that'll be in another shoe rack.
All Season
Vibram has targeted these shoes at mud-runners. Their video shows a motivated group of burly guys rolling in the mud, climbing rope webs, sliding down muddy hills.
The same video includes only a precious few shots of runners out there on the trail.
But I'd argue that's where these shoes will really shine – in shoulder season trail running on wet slopes and sketchy terrain. And even in the snow.
If you're going minimalist, it's a virtual certainty you'll be off-road looking for the softer stuff for at least some of your training. The Spyridon MR is a great pick for exactly that.
What this will help you do is extend your minimalist running all year long through the wet weather and, I'm certain, the snow. The soles bear more than a passing resemblance to snow tires and the softer sole material is going to hold up well when the thermometer dips.
Vibram offers another shoe, the Lontra which has a TC-1 sole material, and a water resistant upper. They advertise it as being insulated and being good in the cold. But my experience is that insulation doesn't really make much difference at -10 °C and in a foot of snow. You're going to get cold and wet regardless of insulation.
But with the Spyridon MR you have a perfect sole for the cold and the wet and the snow. Not just the mud.
The Details
Uppers: Injection PU Brace + Polyester with Water Repellent Treatment stretchy polyester with a canvas fabric finish

Insoles: 2mm EVA and anti-microbial Drilex sockliner

Midsoles: molded nylon (3D Cocoon) mesh

Outsoles: Vibram® XS Trek rubber with 360 degree lug design

Speed-lace system

Weight (each): M43: 7.54 oz. (214 gm) / W38: 5.49 oz. (156 gm)

Care: Machine wash in cold water, air dry
Rating
Fit  (4 / 5)
Same fit and feel as comparable FiveFingers. Speed lacing system makes fit easy to adjust.
Support (0.5 / 5)
No appreciable support. But still a half step more than true minimalism.

Traction (5 / 5)
Excellent grip on all surfaces, especially wet, with XS Trek material and well-designed lugs. Additional impact protection at the instep provided by a nylon mesh midsole.
Durability  (4 / 5)
Uppers good, outsole will probably wear faster under street mileage.
Price  (4 / 5)
$89.99 (best deal on Amazon)
My Rating (4.5 / 5)
Conclusion
The Spyridon MR is an excellent wet-weather minimalist shoe particularly if a lot of your mileage is off-pavement. The XS Trek sole material and the lugs will keep you going long into the fall in the northern latitudes, and I would say, easily through the winter.
Out on the trail the Spyridon MR won't keep you dry but it should keep you upright.
And ultimately, that's pretty much what it's all about.

If you have any questions on the Spyridon MR, or you'd like to add your own review, I'd love to hear from you. Please leave a comment below. 
Save
Save
Save